A designer Ana Strumpf e Tok&Stok lançam linha de acessórios que levam amor e humor para a decoração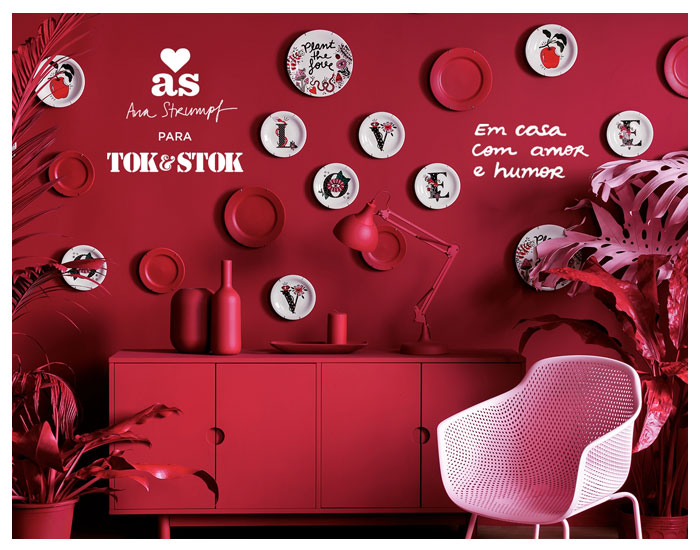 Tok&Stok anuncia mais uma linha de design assinado com a designer e ilustradora Ana Strumpf.
Inspirada no movimento pop art, memphis e surrealismo, características marcantes do trabalho da Ana, o desenvolvimento exclusivo de Ana Strumpf para Tok&Stok- Em casa com amor e humor traz a irreverência e criatividade da artista sintetizada em duas palavras-chave que são indispensáveis para atualidade: amor e humor.
A campanha conta com a linha de acessórios Going Wild, inspirada na tendência Urbano Caleidocolor, com estampas que remetem à alusões tropicais, como a Onça e a banana, traduzindo o conceito "Loucura divertida" para o dia a dia.
Inspirada na tendência da Tok&Stok Regional Arts&Crafts, a linha Plant the Love faz uso de elementos fantásticos de seu imaginário para dar vida a um místico jardim surrealista – que traz uma nova perspectiva sobre perceber o amor como flores para plantarmos e cultivarmos.
"Estou super feliz por levar minha arte, mais uma vez, para um público tão grande e diverso por meio de mais uma colaboração com a Tok&Stok. Uma mistura de Plant the Love e Going Wild, que traduz quem sou eu. Mas para mim, a melhor parte deste trabalho é quando vejo as peças na loja, quando as pessoas gostam e se emocionam.",comenta Ana Strumpf.
O mix de produtos da campanha Ana Strumpf para Tok&Stok- Em casa com amor e humor, contempla acessórios para decoração e utilidade de cozinha como copos, canecas, pratos moringas, e está disponível no site e nas lojas físicas da marca.
Contatos:
Ana Strumpf
http://www.anastrumpf.com/
Tok&Stok
0800 200 8000
https://www.tokstok.com.br/
_____________________